Back to top
Digital Slot Car Racing in 1/32 scale: Covering: Scalextric, Carrera, Ninco, SCX and specialist digital systems (Paperback)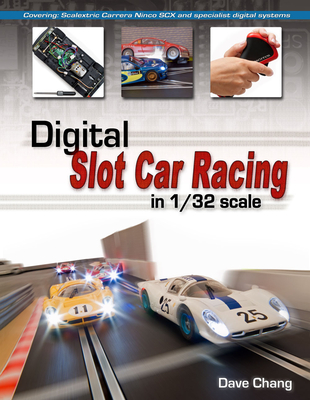 Description
---
Scalextric-style 1/32 racing just got better! Digital can run more than two cars on two-lane circuits, introducing overtaking and racing tactics to bring slot car racing closer than ever to real motorsports. 

Here is the complete guide to digital racing.  Researched with hands-on testing and support from manufacturers, distributors, developers and enthusiasts. In-depth coverage of all the major systems: Scalextric, Carrera, SCX and Ninco. The book includes:
Full details of advanced systems Davic, oXigen, Scorpius, Slotfire, BLST and routed digital.
Advice for people new to slot car racing and for those wishing to upgrade from analogue systems.
How digital slot car racing works.
How to design perfect digital racing circuits.
How to conduct digital races.
How to keep digital systems in tip-top condition.
DIY project to customise digital systems and car.
About the Author
---
Dave Chang is a record producer by day and a slot car racer by night. He has been deeply involved in the hobby for years. He is the author of the definitive guide to slot car tuning, The Slot Car Handbook [Crowood 2007]. This is his second book for Crowood. Resident - Englandwww.theslotcarhandbook.com