Back to top
The Power of WOW: How to Electrify Your Work and Your Life by Putting Service First (Hardcover)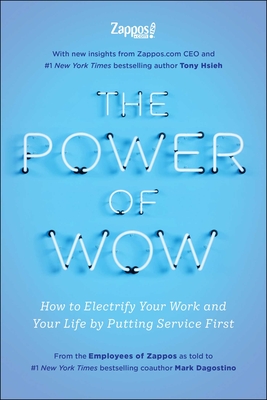 $29.95
Call to check availability
Description
---
Happy customers. Passionate employees. A highly recognizable brand known for delivering on its promises.

That's the power of WOW.

From its birth during the Dot Com Boom in 1999 to its acquisition by Amazon in 2009, Zappos, the customer service company that just happens to sell things online, continues to turn heads with its disruptively entrepreneurial spirit and radically innovative employees. Ever unfolding throughout two decades, Zappos continues to outlive the seemingly inevitable short lifespan of the average corporate company. How do they do it?

In The Power of WOW, the essential follow-up to Tony Hsieh's Delivering Happiness, Zapponians from every part of the business share powerful stories and lessons that they have learned in business and life––from delivering empathetic customer service in the face of devastating circumstances to creating a self-organized organizational structure using Market-Based Dynamics and everything in between.

Fast-paced and filled with authentic, diverse voices, The Power of WOW gives readers an exclusive and immersive understanding of how one company is finding resilience. This glimpse inside the world of Zappos shows how a self-organized company is opening up avenues for passionate individuals to unleash their undiscovered strengths in the workplace and evolve the business from the inside out.

Whether you are a customer, an employee, a business leader, shareholder, entrepreneur, or just happened to pick up this book, The Power of WOW will, ultimately, show how leading and infusing humanity into the workplace can change everything in your business, your community, and your life.
About the Author
---
From wrestling rings to Hollywood to the center of the national political arena, New York Times bestselling coauthor Mark Dagostino has quickly emerged as one of the most diverse and compelling writers in nonfiction today. Dedicated to writing books that inspire and uplift, Mark is widely recognized for his runaway #1 New York Times bestseller, The Magnolia Story with Chip & Joanna Gaines of HGTV's Fixer Upper. Early on, Mark cut his teeth as a news reporter for the Boston Globe—developing skills that would carry through to his ten years on staff as a correspondent, columnist, and senior writer for PEOPLE magazine. He appeared as a celebrity expert on CNN, TODAY, The Early Show, The View, Inside Edition, Entertainment Tonight, and dozens of other national TV shows. Mark earned his degree in English/Journalism from the University of New Hampshire in his home state, where he now lives with his family.

In 1999, at the age of 24, Tony Hsieh (pronounced Shay) sold LinkExchange, the company he co-founded, to Microsoft for $265 million. He then joined Zappos as an advisor and investor, eventually becoming CEO and helping Zappos grow from almost no sales in 1999 to the multi-billion dollar company it is today. In 2009, the company was acquired by Amazon in a deal valued at $1.2 billion. Tony has remained as CEO of Zappos, which operates independently of Amazon, and continues to help build Zappos as a company dedicated to customer service, company culture, and community. Tony's book, Delivering Happiness, was published in 2010, and outlines his path from starting a worm farm to life at Zappos. Delivering Happiness debuted at #1 on the New York Times bestseller list. Tony helped start Downtown Project, a group committed to helping transform downtown Las Vegas into the most community-focused large city in the world.

Established in 1999, Zappos.com, operated by Zappos IP LLC, has quickly become the leading destination in online apparel and footwear sales by striving to provide shoppers with the best possible service and selection. Zappos.com currently showcases millions of products from over 1000 clothing and shoe brands. Zappos.com is also proud to be rated "Elite" by StellaService and was named a J.D. Power 2011 Customer Service Champion, one of only 40 companies so named in the US. Zappos.com is a subsidiary of (AMZN) Amazon.com.
Praise For…
---
"A must-read about an extraordinary business endeavor in our everyday world. Tony and company have pioneered how to scale organizational effectiveness with heart, and much of their story is shared here with transparency, humility, and great storytelling. This provides a glimpse of the future of how to get things done on the planet, sustainably, with efficient elegance." 

—David Allen, author of Getting Things Done: The Art of Stress-Free Productivity

"Customers will never love a company until the employees love it first, and Zappos proves it. Lots of CEOs love to write books to tell us how great their companies are; what a treat to hear the stories from the actual employees who work there."

—Simon Sinek, optimist and New York Times bestselling author of Start with Why and Leaders Eat Last

"Zappos is a powerful example of a modern company that has embraced a simple truth: Passionate employees are any organization's single greatest asset. The Power of WOW is a timely reminder that no business leader can afford to ignore the value of an inspired workforce." 

—Chip Conley, hospitality entrepreneur and author of Wisdom at Work

"Over the past decade, I've had the privilege of training thousands of Zappos employees. What a remarkable and resilient company. The highly personal stories and lessons in this book should be read by all modern business leaders—and anyone who wants to make customers and employees alike say WOW!"

—Dr. Sean Stephenson, professional speaker and author of Get Off Your "But"

"The Power of WOW offers the wisdom of the collective: a direct glimpse into the thinkers, dreamers, and doers that bring Zappos to life every day. This collection of stories will fuel a passion that you can bring back to your business and take your own culture to the next level."

—BJ Bueno, founder of The Cult Branding Company

"This book showcases the vulnerability, the realities, and the highs and lows of an aspirational human company building upon its foundation—people first. The Power of WOW is not a social-hype piece, but a reinforcement that its perception and its reality are, in fact, one and the same."

—Mick Ebeling, founder and CEO of Not Impossible Labs