Back to top
The US Army Rappelling Handbook - Military Abseiling Operations: Techniques, Training and Safety Procedures for Rappelling from Towers, Cliffs, Mounta (Paperback)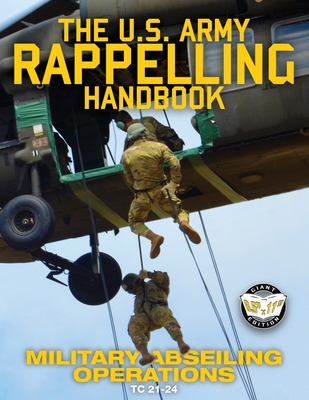 $12.79
Usually Ships in 1-5 Days
(This item is non-returnable.)
Description
---
TECHNIQUES, TRAINING AND SAFETY PROCEDURES FOR RAPPELLING FROM TOWERS, CLIFFS, MOUNTAINS, HELICOPTERS AND MORE
Learn military rappelling skills that could help save lives - including your own
Current U.S. Army training doctrine.
Full-size edition - large 8.5" x 11" format clear, detailed text & illustrations.
Complete & Unabridged.
Supersedes the old TC 21-24 (1997).
"Batteries last hours, books last decades: get the print edition "
Rappelling or abseiling has many and varied applications, both military and civilian, not limited to gaining rapid entry to unfriendly or otherwise-inaccessible areas in combat. Law enforcement officers, firefighters, rescue personnel, and of course mountaineers - all benefit from the skill of rappelling in the course of their duties and activities.
Similarly, a knowledge of rappelling theory and practice is a valuable asset for anyone who wishes to be prepared for any eventuality -- be it escaping from a burning building, rescuing others from disaster, or any of numerous other potential predicaments.
Rappelling is not only exhilarating to perform and dramatic to watch, it can be extremely perilous if conducted improperly. This book contains the U.S. Army's combined knowledge, experience and best practices to ensure that its Soldiers and leaders are capable of conducting rappelling operations effectively and safely, whether in training or in combat.
INFORMATION YOU CAN DEPEND ON
Search for "CARLILE MILITARY LIBRARY" to find more TOP-FLIGHT, SQUARED-AWAY publications for your professional bookshelf
Information purposes only.
Proudly published in the U.S.A. by CARLILE MEDIA.
Warning This material is intended as an aid to training, not as a substitute for it. Any action you take is at your own risk.