Back to top
Walking Free: Taking Small Steps to a Big God (Hardcover)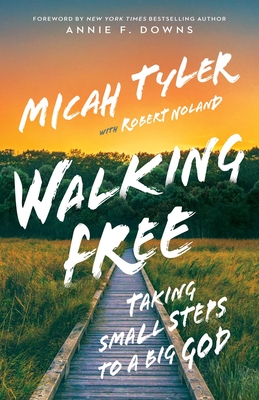 $26.95

Usually Ships in 1-5 Days
Description
---
Renowned Christian music artist and former youth pastor Micah Tyler helps readers set out on the path to a free and meaningful life in his first book, Walking Free.
Inspired by his hit song, Micah Tyler's Walking Free: Taking Small Steps to a Big God encourages believers
to pursue a deeper relationship with Jesus, regardless of external circumstances. The journey from where we are to where God wants us to be is filled with challenges and obstacles. Walking Free uplifts readers with the truth that God will always walk with us and never leave us behind. Micah applies Scripture and Biblical wisdom in his teaching alongside personal stories which illuminate the path before us. With 45 steps, Walking Free includes questions and personal reflections that will inspire readers to grow in their relationship with God.
Walking Free also includes:
A plan for pursuing God like never before
42 steps covering many of life's challenges
Over 120 questions for self-reflection or discussion
Practical guidance for transforming your spiritual life
A glimpse into Micah Tyler's life and insights.
Walking Free will help you overcome life's challenges by taking small steps to experience the mercy and mission of a closer connection with God.
About the Author
---
Songwriter and recording artist MICAH TYLER writes, performs, and lives out "battle-tested" music that gives glory to his God. Micah is the recipient of multiple Dove and K-LOVE Award nominations, and has written two BMI Top 25 Christian Songs. Along with five number #1 radio hits, his song "Different" is certified Gold by RIAA. Today, Micah's performance schedule ranges from youth camps to conferences to touring with other artists. Micah's story up until his break-through into commercial success was, in the best sense of the word, different. Hailing from the small town of Buna, Texas, he spent his young adult years as a youth pastor. The future artist picked up the guitar to fill the need in his ministry for worship leadership, and from that time God's calling for his life got louder and larger than he could possibly have imagined. After nine years, Micah left his stable job as youth pastor, moved his family into a single-wide trailer, and began traveling the region performing his music. Micah recalls, "I told the Lord, 'I don't know how to be a professional musician, but you've taught me to be faithful.'" With few connections in the music industry, Micah made ends meet by working as a sausage delivery truck driver while he pursued his calling. God blessed the steps he and his wife took in faith. Micah's audiences multiplied, and the rest is history. The story of Micah's music career serves as a testimony that, with a little faith and a big God, incredible things are possible. Based on the hit 2020 song, Walking Free is Micah's first book. Read more about Micah online at www.micahtyler.com.