Back to top
Trejo: My Life of Crime, Redemption, and Hollywood (Paperback)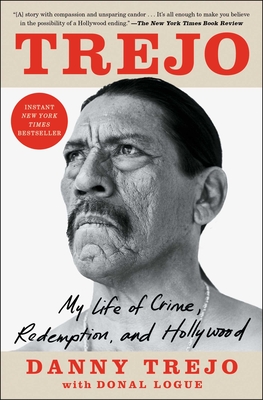 $18.00

Usually Ships in 1-5 Days
Description
---
In this "celebration of a life fully lived" (Reyna Grande, author of The Distance Between Us), discover the full, fascinating, and inspirational true story of Danny Trejo's journey from crime, prison, addiction, and loss—it's "enough to make you believe in the possibility of a Hollywood ending" (The New York Times Book Review).

On screen, Danny Trejo the actor is a baddie who has been killed at least a hundred times. He's been shot, stabbed, hanged, chopped up, squished by an elevator, and once, was even melted into a bloody goo. Off screen, he's a hero beloved by recovery communities and obsessed fans alike. But the real Danny Trejo is much more complicated than the legend.

Raised in an abusive home, Danny struggled with heroin addiction and stints in some of the country's most notorious state prisons—including San Quentin and Folsom—from an early age, before starring in such modern classics as Heat, From Dusk till Dawn, and Machete. Now, in this funny, painful, and suspenseful memoir, Danny takes us through the incredible ups and downs of his life, including meeting one of the world's most notorious serial killers in prison and working with legends like Charles Bronson and Robert De Niro.

An honest, unflinching, and "inspirational study in the definition of character" (Kevin Smith, director and actor), Trejo reveals how he managed the horrors of prison, rebuilt himself after finding sobriety and spirituality in solitary confinement, and draws inspiration from the adrenaline-fueled robbing heists of his past for the film roles that made him a household name. He also shares the painful contradictions in his personal life. Although he speaks everywhere from prison yards to NPR about his past to inspire countless others on their own road to recovery and redemption, he struggles to help his children with their personal battles with addiction, and to build relationships that last.

Redemptive and painful, poignant and real, Trejo is a portrait of a magnificent life and an unforgettable and exceptional journey that proves "though we may fall down at some point in our lives, it's what we do when we stand back up that really counts" (Robert Rodriguez, filmmaker and producer).
About the Author
---
Danny Trejo is one of Hollywood's most recognizable, prolific, and beloved character actors. Famed for his ultra-baddie roles in series like AMC's Breaking Bad, FX's Sons of Anarchy, and director Robert Rodriguez's global, billion-dollar Spy Kids and Machete film franchises, Danny is also a successful restauranteur. He owns seven locations of Trejo's Tacos, Trejo's Cantina, and Trejo's Coffee & Donuts in the Los Angeles area, and is expanding his Trejo's Tacos franchise nationwide. Visit DannyTrejo.com to learn more.

Born in Canada to Irish parents, Donal Logue was raised on the Mexican border in Nogales, Arizona, Calexico and El Centro, California. A veteran of over seventy Hollywood films and hundreds of television episodes, Logue won the Grand Jury Prize for outstanding acting at the 2000 Sundance Film Festival for The Tao of Steve. He stays busy between creative projects with his trucking company, Aisling Trucking, and hardwood company, Frison-Logue Hardwoods, in Southern Oregon. Visit DonalLogue.com.