Back to top
Fashion Killa: How Hip-Hop Revolutionized High Fashion (Hardcover)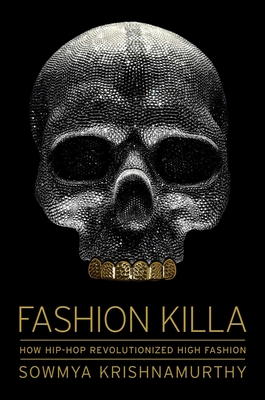 $28.99

Usually Ships in 1-5 Days
Description
---
Named one of the best books of the year by Booklist!

A cinematic narrative of glamour, grit, luxury, and luck, Fashion Killa draws on exclusive interviews with the leaders of the fashion world to tell the story of the hip-hop artists, designers, stylists, and unsung heroes who fought the power and reinvented style around the world over the last fifty years.

Set in the sartorial scenes of New York, Paris, and beyond, music journalist Sowmya Krishnamurthy's reporting on the intersecting histories of hip-hop and contemporary fashion focuses on the risk takers and rebels—the artists, designers, stylists, models, and tastemakers—who challenged a systemic power structure and historically reinvented the worlds of prêt-à-porter and haute couture.

Fashion Killa is a classic tale of a modern renaissance; of an exclusionary industry gate-crashed by innovators; of impresarios—Sean "Diddy" Combs, Dapper Dan, Virgil Abloh—hoisting hip-hop from the streets to the stratosphere; of supernovas—Lil' Kim, Cardi B, and Kimora Lee Simmons—allying with kingmakers—Anna Wintour, Donatella Versace, Tommy Hilfiger, and Ralph Lauren; of traditionalist fashion houses—Louis Vuitton, Fendi, and Saint Laurent—transformed into temples of rap gods.

Krishnamurthy explores the connections between the DIY hip-hop scene and the exclusive upper-echelons of high fashion. She discusses the sociopolitical forces that defined fashion and tracks the influence of music and streetwear on the most exclusive (and exclusionary) luxury brands. At the intersection of cultural commentary and oral history, Fashion Killa commemorates the contributions of hip-hop to music, fashion, and our culture at large.
About the Author
---
Sowmya Krishnamurthy is a music journalist and pop culture expert. Her work has been featured in Time, Rolling Stone, Complex, XXL, Playboy, Highsnobiety, and NPR. She is a graduate of the Ross School of Business at the University of Michigan and lives in New York City. This is her first book.
Praise For…
---
"A cogent study of hip-hop's outsized influence on fashion trends…The link between hip-hop and high fashion is so tight that many consider them part of the same package. In this fast-paced, deeply researched history, Krishnamurthy chronicles how and why that deep bond continues today. … Exciting and exhaustive, this fun hip-hop history explains what your favorite rappers are wearing and why."
—Kirkus Reviews (starred)

"Readers are lucky that this brilliant, shining gem of a book exists…. Along with its many nuanced arguments and observations, the book is a stunning historical record of years, people, places, runway shows, brands, and evolutions that should be studied. An essential book about U.S. culture."
—Booklist (starred review)

"The first comprehensive anthology of the marriage between hip-hop and luxury fashion, mapping out well-examined evidence of the two entities being inextricably linked."
—The Cut

"Krishnamurthy cements herself as a necessary historian for the culture."
—Paper Magazine

"Fashion Killa is a love letter to hustlers, innovators, and people who didn't abide by the rules. Krishnamurthy's comprehensive work gives the history of hip-hop its due, recognizing the elevated contributions of the icons, designers, and rappers who came together to claim a place in a culture."
—Dapper Dan, Fashion Innovator

"Fashion Killa is super important because we are the culture that transcends into fashion. Rappers motivate designers to make something dope. Hip-hop and fashion is a perfect marriage!"
—Raekwon, Rapper and author of From Staircase to Stage

"Sharp and engaging contribution to fashion, art, and storytelling. A must read for anyone who adores and respects fashion's contribution to mankind."
—Slick Rick, Storyteller, and Fashion Icon

"Sowmya Krishnamurthy's powerful and meticulously told deep dive into hip-hop's culture of showing out is a vibrant and historic telling of a groundbreaking story. Fashion Killa captures the visionaries, misfits, and rule breakers who revolutionized the worlds of fashion, innovation, and luxury. This is not just the American dream but a global story."
—Vikki Tobak, author of Ice Cold: A Hip-Hop Jewelry History and Contact High: A Visual History of Hip-Hop.

"Fashion Killa is a luxury quilt of hip-hop journalism sewn with gilded floss. In Sowmya's skillful sartorial hand, the stories of fashion icons and upstart rappers appear in a two-way mirror, revealing the line between haute and street as a fabrication born out of aspiration, and the thread tying hip-hop to fashion as inevitable and durable indeed."
—Dan Charnas, New York Times bestselling author of Dilla Time and The Big Payback