Back to top
Salt, Fat, Acid, Heat Postcards (Cards)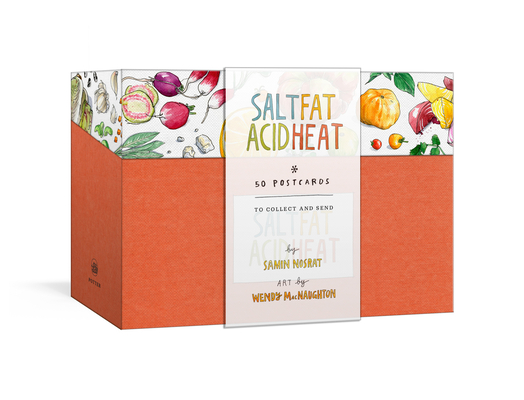 $20.00
Call to check availability
Description
---
50 stunning postcards featuring Wendy MacNaughton's beloved illustrations from Samin Nosrat's New York Times bestselling phenomenon Salt, Fat, Acid, Heat, the inspiration for the hit Netflix series—perfect for sending, collecting, decorating your home or office, or using as gift tags
 
Salt, Fat, Acid, Heat was an instant New York Times bestseller, launching Samin Nosrat to culinary superstardom and introducing illustrator Wendy MacNaughton to a smitten national audience.
 
Now fans can share Samin and Wendy's vibrant, warm, and whimsical work with friends or simply enjoy curating and displaying them at home or in the office. Housed in a keepsake box reminiscent of a recipe box, these dazzling postcards are arranged in four tabbed sections: salt, fat, acid, and heat.
About the Author
---
Samin Nosrat is a chef, teacher, and author of the bestselling, James Beard Award–winning Salt, Fat, Acid, Heat. She has been called "a go-to resource for matching the correct techniques with the best ingredients" by The New York Times and "the next Julia Child" by NPR's All Things Considered. Samin is an Eat columnist for The New York Times Magazine and can be found eating, cooking, and laughing in the Salt, Fat, Acid, Heat documentary series on Netflix.
 
Wendy MacNaughton is a New York Times bestselling illustrator and graphic journalist known for her unique approach to visualizing information and telling stories through drawing. In addition to Salt, Fat, Acid, Heat, her books include Meanwhile in San Francisco, The Gutsy Girl, Leave Me Alone with the Recipes: The Life, Art, and Cookbook of Cipe Pineles, Knives and Ink, and The Essential Scratch and Sniff Guide to Becoming a Wine Expert. Her drawn column, "Meanwhile," appears in the Sunday New York Times, and her work has been shown at the Los Angeles Museum of Natural History, the Exploratorium, and the Obama Foundation's Summit gatherings.