Back to top
Your Property Jumpstart: How to build a Thriving Property Business with no money, no experience, and no prior knowledge (Paperback)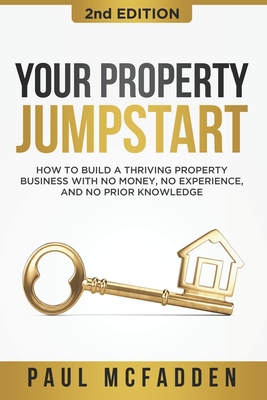 $11.85
Call to check availability
Description
---
YOUR PROPERTY JUMPSTART (R)
2nd Edition
From a standing start, with no personal funds, no experience, and no track record, Paul built a multi-million-pound portfolio, has bought and flipped millions of pounds worth of property, and has packaged and traded tens of millions of pounds worth of property deals to other investors, as well as being responsible for helping countless others (including many prominent, well-known people in the industry) go full-time in property.
And now it's your turn.
Your Property Jumpstart (R), has been written as the ultimate, no-holds-barred roadmap to building a successful property business. No matter your current circumstances, or where you're starting from, here's what's you'll discover...
Navigating through property cycles
The property success mindset
Foundations to building a successful property business
The 8 key fundamentals of success in property
Building your property power team
Goldmine area research and due diligence
Investment strategies
Property development
Property trading and deal packaging
Raising finance to fund your deals
Successful joint ventures
Property deal sourcing
Negotiation and making offers
Creating your action plan
Whatever you believe you know about property, put it to one side. Read this book with a clear and open mind, as it truly has the potential to change your life. All you have to do is study the content and take action.
"After 12+ years in property, from an incredible amount of trial and error in the early days, to where I find myself today, Your Property Jumpstart is the roadmap I wish had been available to me throughout the journey. Nothing is held back, everything is given. Let's get started."
- Paul McFadden