Back to top
You're Going to Make It: 50 Morning and Evening Devotions to Unrush Your Mind, Uncomplicate Your Heart, and Experience Healing Today (MP3 CD)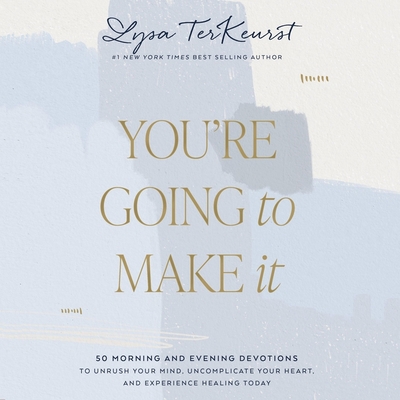 $41.99
Call to check availability
Description
---
Read by the author.
Incorporate a new rhythm for those days when life feels too hard through the daily practice of receiving and releasing--receiving God's encouragement, instruction, and truth to start your day and releasing to God all that's weighing you down at the end of each day. He'll set you on a path toward healing.
In this 50-day devotional, New York Times bestselling author Lysa TerKeurst helps you stay connected to God and continue loving others even in the middle of discouraging, disappointing, or even devastating circumstances. Each of the morning and evening devotions contain:
a Bible verse to start your daya statement of truth to remember throughout your daya prayer to receive before you go to sleep to better prepare for tomorrow
Without these crucial components woven into the routine of our harder seasons, connecting with the Lord can very quickly begin to feel overwhelming and like just another item on our to-do lists. Lysa understands this struggle and wants to create a sacred space where women can bookend their days with God by simply showing up, soaking in truth, and being reminded they're not alone on their healing journey.
In her gentle, unassuming way, Lysa walks you through the pages of You're Going to Make It, where you will:
receive the biblical truth and encouragement you need when hurtful situations leave you worn out and unmotivated to spend time with God.escape the loneliness of trying to heal on your own with trusted wisdom from a Bible teacher and friend who understands your pain and wants to help you move forward.be reassured that though this difficult season is part of your story, it will not be your whole story.
This difficult season doesn't have to be a time of numbing the pain or going through the motions. Let this devotional help you get intentional and know that, though this may be a hard time, it can also be a holy time.